Welcome to join GoodWeek 2022 series
2022-03-01 16:59
Since 2021, we committed to giving the stakeholders in the PV industry a platform, where all participants could have a beneficial and fascinating experience.
That is the GoodWeek, the webinar series starting every March with a closer look at the coming year.
A new round of GoodWeek webinar series is coming soon. Beginning with 7 March, GoodWe will launch five live streams one after another. We invited strategic partners from various fields of the photovoltaic industry, such as IHS Markit, JASolar, Arctech, Powerchina HDEC, BayWa r.e., LONGi, Memodo, Rubicon, VP Solar, BYD, Canadian Solar, Greener, Trina solar, Trina tracker. The event is jointly hosted by these major media, including Lead Associate, pv magazine, Solar Power World, Wood Mackenzie, Canal Solar.
GoodWeek 2022 continues to focus on the characteristics of PV development in major markets, while giving more insights on C&l, utility-scale projects, and energy storage systems. The topics to be shared will cover PV system (modules, inverters, mounts, etc.), PV data (market forecast, market capacity, market changes, etc.) and PV ecology (energy storage +, PV buildings, etc.). The main theme is ''From Pioneer to innovator". The event will showcase our plan for the new product, as well as innovative projects and technological solutions.
Join the exclusive events and explore more about the latest solar PV innovations. Wherever you are, whatever you do.
March 7th GoodWeek China
https://m.inmuu.com/v1/live/news/1638592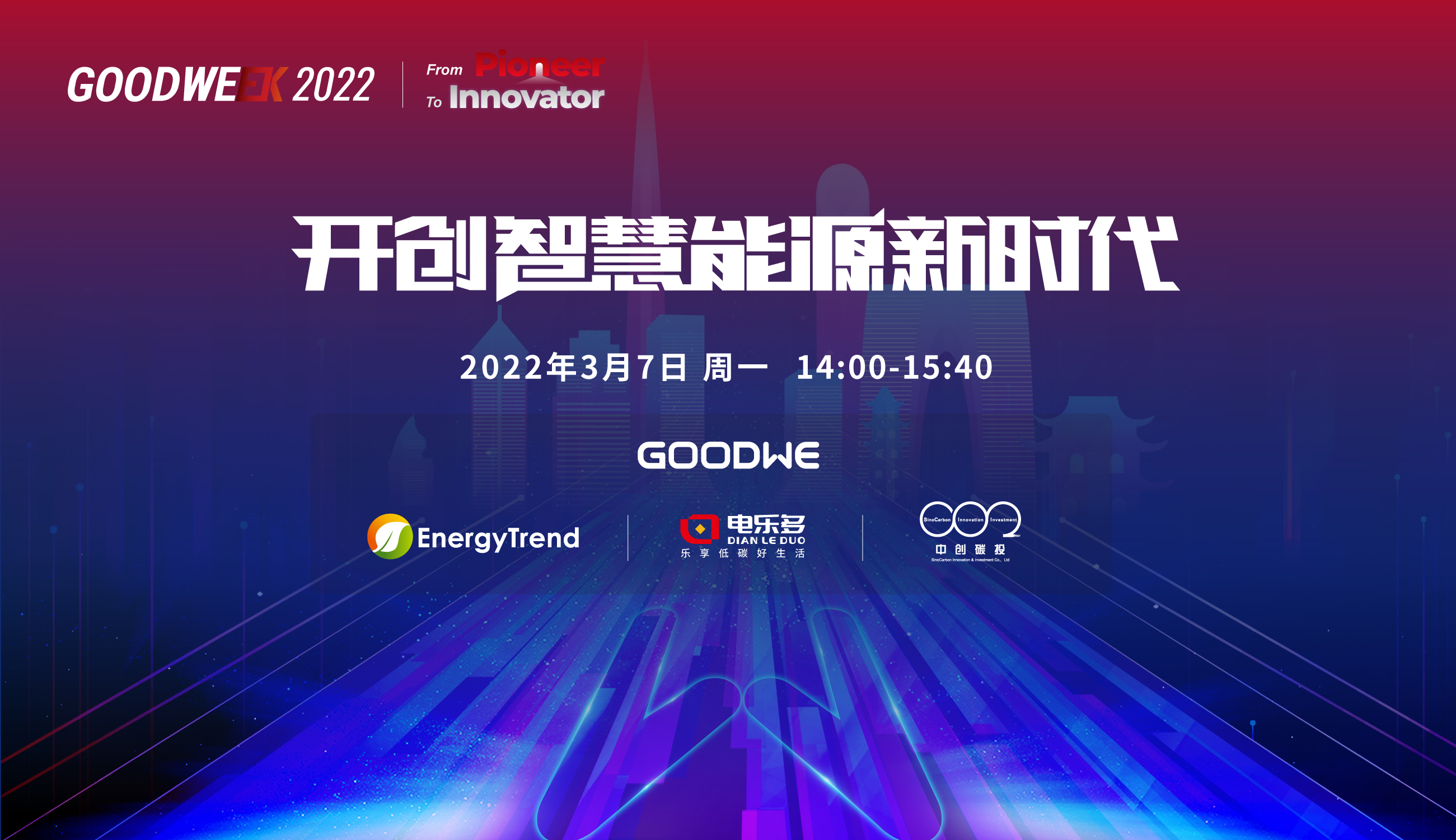 March 8th GoodWeek APAC
https://us02web.zoom.us/webinar/register/9216455221759/WN__EOmAf-MQdGU1C0Yk8korA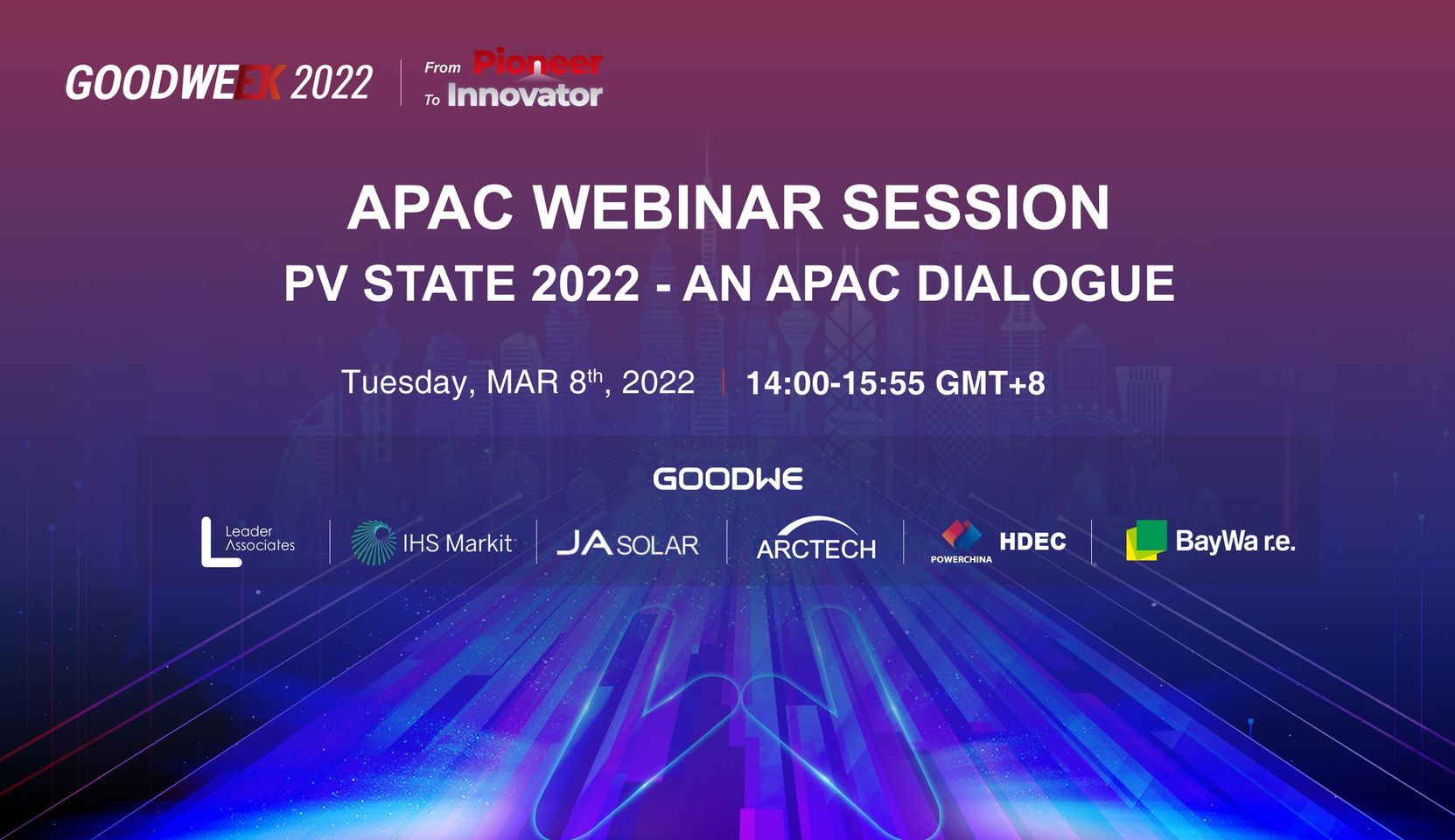 March 9th GoodWeek EMEA
https://www.pv-magazine.com/webinars/home-solarstorage-focus-smart-application-trends-and-tech-in-emea/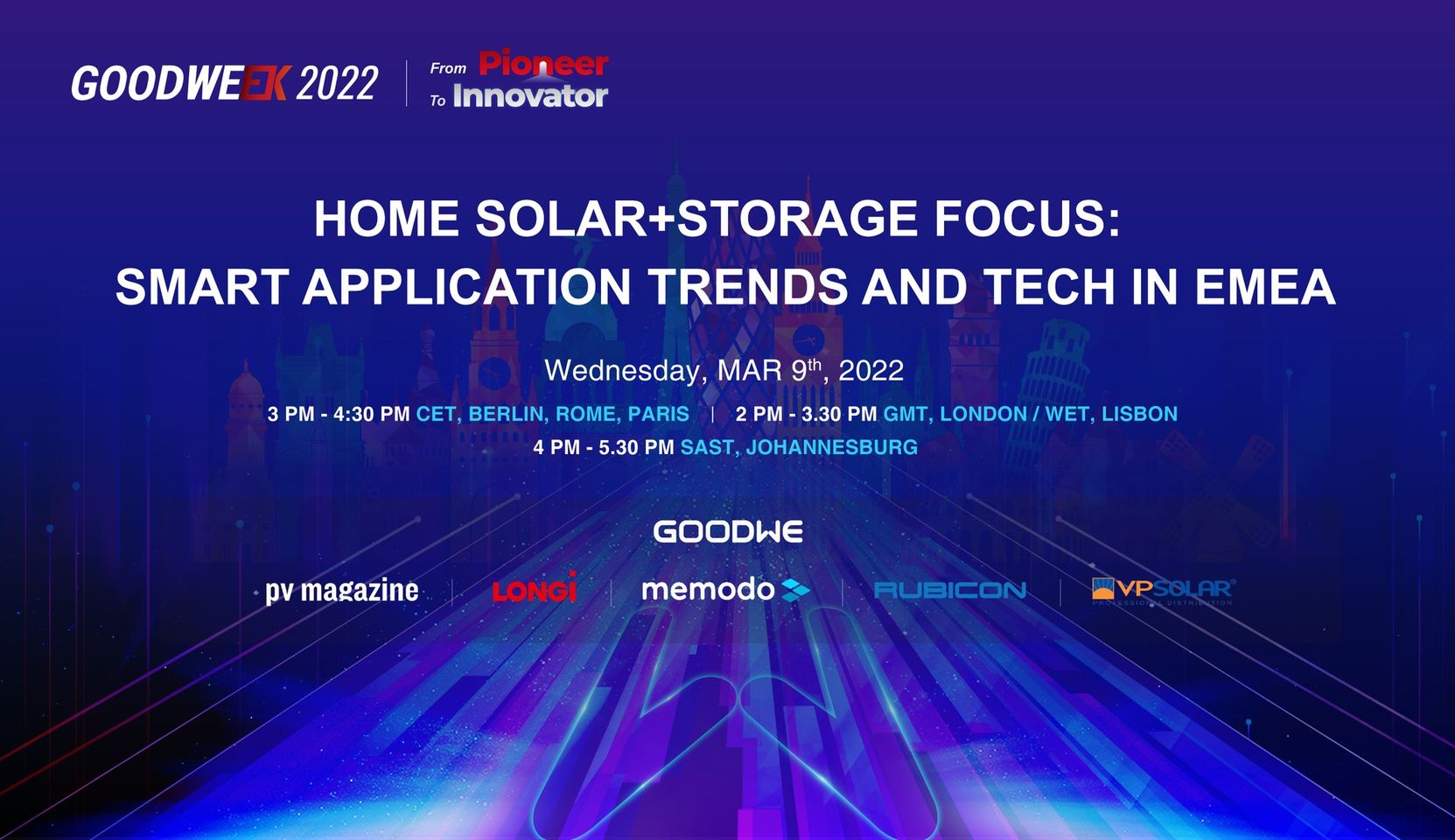 March 10th GoodWeek North America
https://gateway.on24.com/wcc/eh/2927718/lp/3645037/future-energy-the-era-of-solar-storage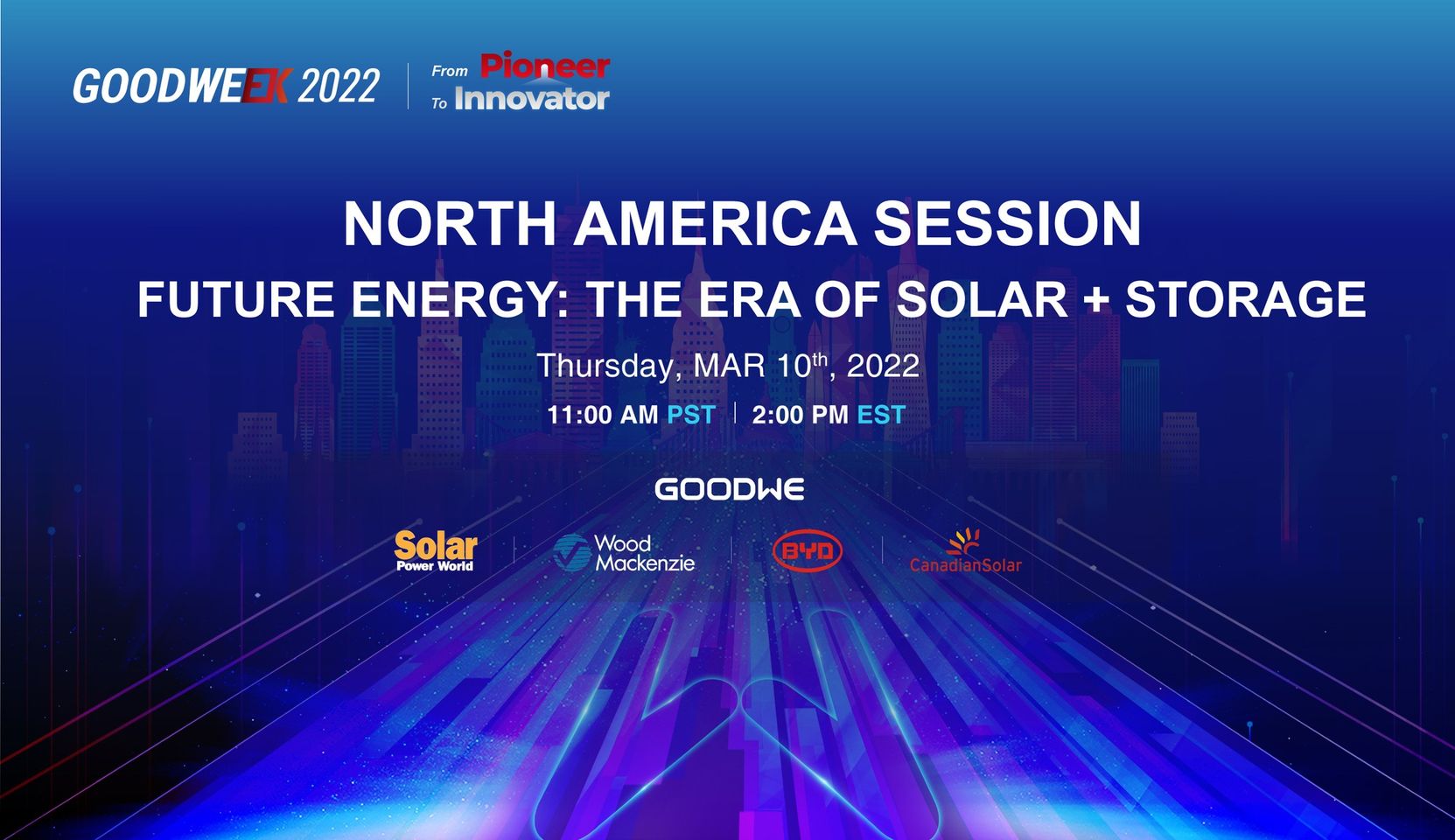 March 11th GoodWeek Brazil
https://energia.canalsolar.com.br/goodweek-brasil-2022
Main Session Speakers
Holly Hu, Senior Analyst, IHS Markit
Daniel Gaefke, Managing Director APAC, BayWa r.e.
Dawei Zhao, Director, Solar APAC, PowerChina Huadong Engineering
Jell Jiang, Manager of Southeast & Middle Asia Region, GoodWe
Max Jiang, Head of APAC Region, Arctech
Andrew Zhang, Technical Sales Manager, JA Solar
Thomas Haering, Managing Director EMEA, GoodWe
Ali Bouattour, Technical Director EMEA, GoodWe
Jason Yan, Senior Product Marketing Manager, LONGi
Riccardo Frisinghelli, International Strategic Manager, VP Solar
Nick Roche, Chief Product Officer, Rubicon Energy
Tobias Wenleder, CEO, Memodo
Dr. Michael Mendik, country manager, GoodWe
Philippe Gregoire, Senior Technical Product Manager, Canadian Solar
Sergio R Carvalho, Country Manager da ​GoodWe Brasil
Alexandre Pereira, Techincal Director da GoodWe Brasil
Marcio Takata, Diretor da GREENER
Italo Ribeiro, Suporte Técnico Latam da Trina Solar
Jessica Sanchez, Head de Pré-vendas Latam da Trina Tracker
If you are interested in our webinar, do not hesitate to join us and we set a special activity for you! Reach here for activity instruction.