Horizontal Mounting Solution Designated for MT Series
2021-11-23 10:51
WHY IS NEW MOUNTING SOLUTION IS NEEDED?
PV systems installed on the rooftop is a common and important form of solar energy application. And different types of rooftop often come with different mounting solutions, including that of inverters and PV panels.
COMMON PRACTICE IN INSTALLING INVERTER ON ROOFTOP
In a PV system, inverter is adjacent to the PV arrays, mounting on the parapet wall or being supported by independent PV bracket, given that saving costs of DC cables and installation labor, reducing electricity loss, and enabling easy and convenient maintenance are in priority.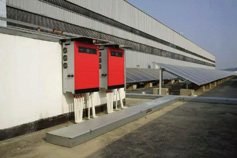 Figure 1. Inverters Mounting on Parapet Wall

Figure 2. Inverters Mounting on Support Bracke
WHY IS IT DIFFICULT TO INSTALL INVERTER ON COLOERED METAL ROOFTOP?
Metal rooftops can be ideal for attaching commercial PV arrays because rooftop penetrations are not required to secure the panels into place. However, comparing to the installation of PV arrays, things come more complicated for the installation of inverters in that metal rooftops are relatively of great height which may lead to increased DC cable costs and line loss if inverters are placed at the lower part of the building, such as in the first-floor distribution room, and that shadow effects may cause generation loss if inverters are mounted in adjacent to PV arrays with support brackets.
Catering to special roofing situations, a horizontal mounting solution for inverter is in need to avoid above-mentioned impacts and to optimize overall performance of PV system.
WHAT IS GOODWE HORIZONTAL MOUNTING SOLUTION?
With horizontal mounting solution, such problems can be effectively resolved and it is more convenient to do wiring and further maintenance.
As shown in figure 3, we can take use of the rails of PV arrays to fasten the support bracket for inverter and thus place the inverter horizontally. Here is a step-by-step instruction.

First, use the rails of PV arrays as base and supporting rails of inverter. Four hexagon head bolts are needed to fasten the lower rails to the upper rails.

Figure 3. PV Array Rails
Secondly, connect inverter's mounting bracket to the upper rails. Ten holes are needed to fasten the bracket. Spacing between the ten holes should match that of mounting bracket and spacing between the rails should match the size of inverter.

Thirdly, external shielding board as shown in figure 5 is required to avoid direct exposure to sunshine and delegate heating effects on the key components inside the inverter.
With horizontal solution adopted for inverter installation, the overall performance of a PV system can be greatly increased and in the meantime the costs for special system design, installation and maintenance can be greatly reduces as well.