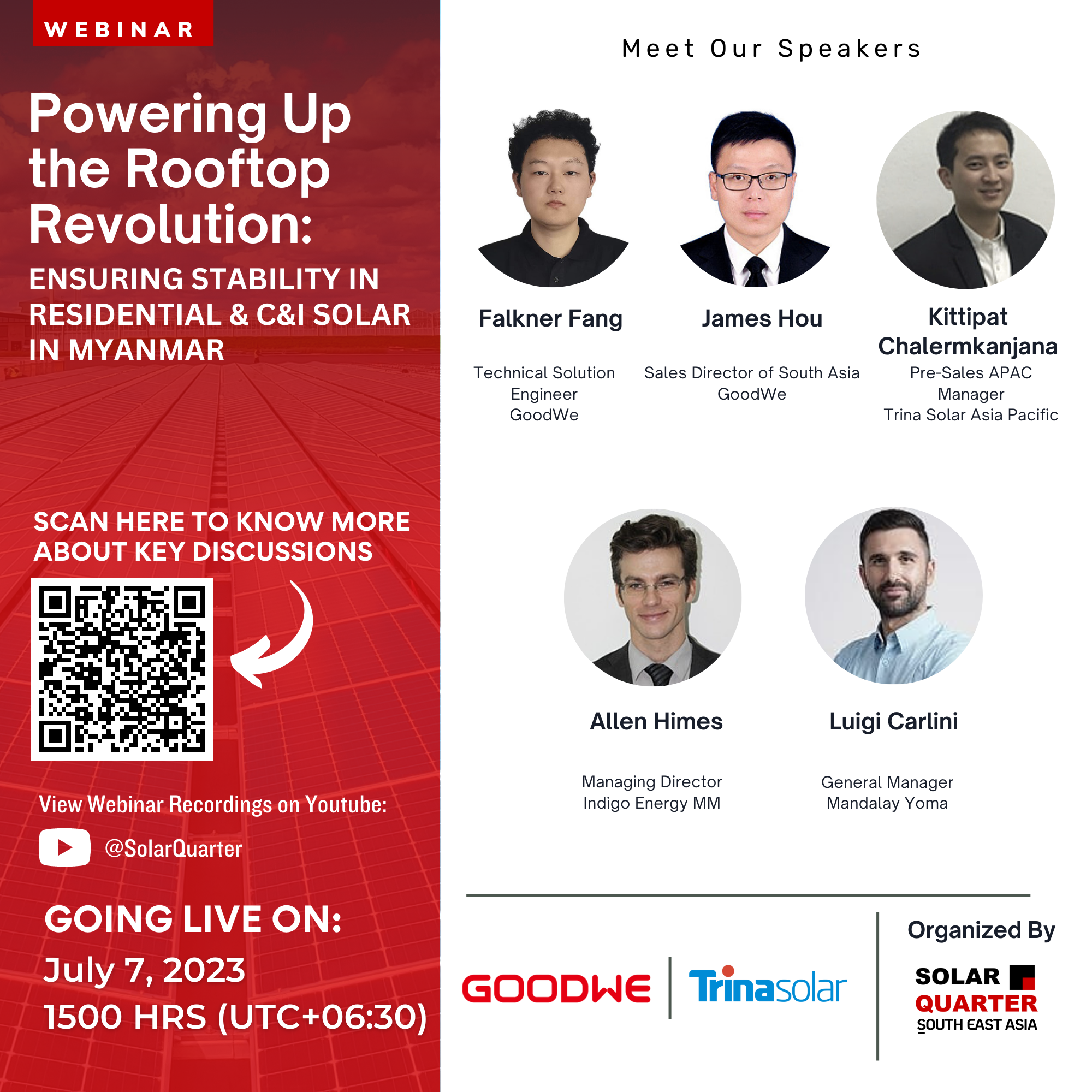 📢 Join us for our upcoming webinar on "Powering Up the Rooftop Revolution: Ensuring Stability in Residential & C&I Solar" in Myanmar!
GoodWe invites you to register now to gain valuable insights from industry experts and discover the key strategies for ensuring uninterrupted power supply from your rooftop solar system. Don't miss out on this exclusive opportunity to take a step towards a more stable and sustainable energy future in Myanmar.
Date: July 7, 2023
Time: 15.00-17.00 (Myanmar Standard Time, UTC + 6:30)
Register Now: (Please check the link for registration instead of the "sign in" button!) https://events.firstviewgroup.com/PoweringUptheRooftopRevolutionEnsuringStabilityinResidentialCISolarinMyanmar#/?affl=LinkedIn
Meet Our Panel Experts-
Mr. Allen Himes, Managing Director, Indigo Energy
Mr. Luigi Carlini, General Manager, Mandalay Yoma
Mr. James Hou, Sales Director of South Asia, GoodWe
Mr. Kittipat Chalermkanjana, Pre-Sales APAC Manager, Trina Solar Asia Pacific
Mr. Falkner Fang, Technical Solution Engineer, GoodWe
Trainer

JamesHou

Responsible for India region businesses of GoodWe, leading the oversea Utility projects development.
Trainer

Falkner Fang

Expertise in application of residential energy storage and C&I energy storage, now working as a solution engineer in GoodWe Solar Academy.